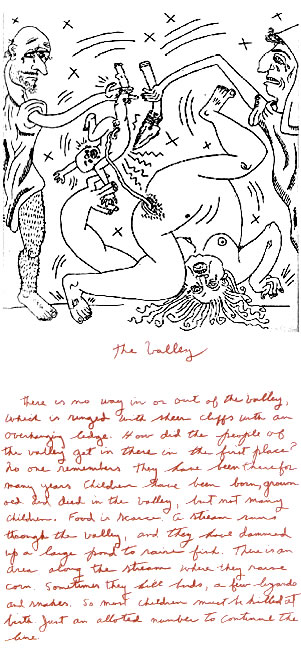 The Valley
Colophon
"The Valley" is a group of etchings by Keith Haring with text by William S. Burroughs. The portfolio consists of sixteen etchings drawn by the artist in April of 1989, in his New York studio. The images were proofed by Maurice Payne from 10" x 9" copper plates and printed in black ink.
The author copied the text by hand on sixteen sheets of tracing paper, which were photo-etched onto 10" x 9" copper plates and printed in red ink. The last page of the portfolio contains both text and image. There is a total of thirty-one sheets.
All the images are Copyright ©1990-2005 The Keith Haring Foundation. The text, also titled "The Valley", is a chapter from the author's novel, The Western Lands, Copyright ©1987 William S. Burroughs. The chapter is reprinted by the arrangement with Viking Penguin, a division of Penguin Books USA Inc.
The fine art paper was created at Twinracker Handmade Paper in Brookston, Indiana. The 14"x12 1/2" sheets are white, 160 lb. 100% cotton paper. The watermark contains the initials of the artist and author. The edition was hand-printed at Wellington Studios in London, and each copy is presented in a case constructed by James Currier of Newtown, Connecticut.
Each of the intaglio images has been signed by the artist. The last page of text has been signed by the author. The edition of eighty is numbered 1/80 to 80/80, with thirteen Artist's Proofs numbered A.P. 1/13 to A. P. 13/13, four Hors Commerce numbered H.C. 1/4 to 4/4 and one Bon a Tirer.
The edition is published by George Mulder Fine Arts
New York in February, 1990
The Valley (Page 1)
by William Burroughs
There is no way in or out of the Valley, which is ringed by sheer cliffs with an overhanging ledge. How did the people of the Valley get in there in the first place? No one remembers. They have been there for many years. Children have been born, grown up and died in the valley, but not many children. Food is scarce. A stream runs through the Valley, and they have dammed up a large pond to raise fish. There is an area along the stream where they raise corn. Sometimes they will kill birds, a few lizards and snakes. So most children must be killed at birth. Just an allotted number to continue the line.