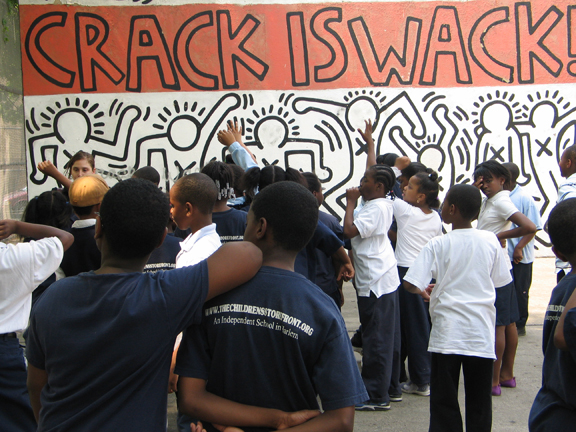 Categories
Description
Haring's 2-sided mural on a handball court at 128th Street & 2nd Avenue in NYC overlooks the FDR drive. A public site that has brought much acknowledgement since it was painted in 1986. This lesson, organized collaboratively with The Children's Storefront gives local students the opportunity to examine and reflect on one of Haring's most influential landmarks.
Objective
To introduce students to the life and work of Keith Haring.
To pose questions to students about what it means to make art public.
To have students examine the pressing issues of their neighborhood.
Resources
Crack is Wack mural (2 sided handball court)
128th St & 2nd Ave (overlooking FDR Drive)
New York City
Materials
Paper
Permanent markers
Paint
Brushes & paint supplies
Polyeurothane or other elastic exterior weather sealant
Procedure
PART 1
DISCUSSING THE MURAL:
We meet and discuss Haring's life and work. We talk about what we know of him, and what is unfamiliar to us. We talk about the mural we are going to visit. Why and how it came to be...
ArtNews NY, December 1986
Ruth Bass
"'Crack is Wack' is Back"
When Keith Haring first painted his "Crack is Wack" mural on the north wall of an East Harlem handball court, an unsympathetic policeman slapped him with a summons. Haring says he picked the rather barren, deserted site just off the Harlem River Drive because of its visibility to thousands of motorists driving into Manhattan from the Bronx, upstate New York and New England. He started his anti-crack campaign "because of a personal situation witha friend who got involved with crack and was having trouble getting help." He ended up paying a $25 fine for disorderly conduct but says he didn't mind because the publicity attracted even more attention to his anti-crack message.
Then some lesser-known graffiti artists entered the seldom-used park and changed the wording to "Crack is It." This time New York City Parks Commissioner Henry Stern stepped in and personally invited Haring to repaint the mural. Early on an overcast fall morning, the artist returned to the park with cans of latex house paint and a blaring box radio. Later that day Stern showed up and donned a a "Crack is Wack" T-shirt, which the artist obligingly autographed across the abdomen.

Haring had to abandon his efforts when he was rained out, but he resumed work under sunny skies a few days later. Passing motorists honked their approval, and the artist, who took time to pose and goof off with local residents, topped off the day by handing out Keith Haring buttons to the neighborhood kids.
Keith Haring: The Authorized Biography
John Gruen
in Haring's words...
"Another project of 1986 was my mural called Crack Is Wack, which is located on the East Harlem Drive at 128th Street. When I discovered this wall, it was a handball court that was more or less abandoned and which didn't have a fence around it. And because the wall looks like a big billboard on the highway, it's perfect for a painting. As usual, I didn't ask permission, and I just brought my ladders and paints and, within a day, I had painted this mural, Crack Is Wack.

Now, there's a very personal reason why I wanted to do this particular mural. Back in 1984, I hired a young studio assistant. He was a Puerto Rican kid-- very intelligent, to star of his school, and ready to go to medical school. He did volunteer work for a Catholic community center and he was just an all-around good and wonderful person. But, little by little, he became a crack addict.

Well, eventually this young assistant of mine found himself completely addicted and I got really distressed, because this was a brilliant kid and one of the best assistants I ever had. He got into more and more trouble, but because he was also intelligent, he wanted desperately to stop. Finally, he was put on a program and, thank God, he was cured. But going through this incredible turmoil with him made me really aware of the dangers of this killer drug, and it was this assistant who inspired the Crack Is Wack mural."
What is the difference between Haring's political and personal motivations to create this mural?
How do they overlap?
PART 2
VISITING THE MURAL:
We walk over to the mural, looking first at both sides briefly and then focusing first on the siide that overlooks the FDR as motorists drive north.
We describe what we see- the colors, lines, shapes, scale. We identify the figures we see and examine their meaning and actions.
Describe the images that we see. What are some of the concepts they depict? How do we know that everyone interprets these images in the same way- unlike other artists' work? What is an image called when it has a universal meaning?
What might Haring meant when he used the symbol of a snake at the top? What is the snake doing
Why do the figures have "X's" in their bodies?
What are the figures doing? How do we know?
What do all the small lines around each figure indicate?
A volunteer from the class comes up and stands beside one of the painted figures.
Why did Haring choose to make this mural life-scaled?
Why did Haring choose such contrasting colors?
Where are people going when they look at this side of the mural from the FDR Drive?
How was crack effecting this neighborhood? How was it effecting the people driving out of Manhattan? How are these audiences similar, how are they different?
Why would Haring want to speak to more than one audience at a time?
Where would the handball hit this image if this wall were to be was used as a handball court?
How does this correspond to Haring's intention with the composition of the image?
We walk around the the side facing motorists as they drive south, into Manhattan.
How does this side of the handball court's mural similar the other side? How does it differ?
Who can identify some of the symbols on this side? Let's figure out what each might mean seperately and then try to make sense of their combined meaning...
How does this color combination make you feel?
Notice how the writing is less constrained. Is there as much open space on this image?
How does this color combination make you feel?
Who sees this mural as they drive into Manhattan? How does this public relate to the local audience? Are they the same, are they different- how?
Let's consider what Haring's intention might have been to make 2 murals that equal one... How does each side communicate and connect with a public? How are the 2 images in conversation with one another?
How do you think people in the neighborhood received this mural at the time? How do you imagine it was perceived of outside of the neighborhood?
We walk back to our classroom.
PART 3
VIDEO OF HARING PAINTING THE 'CRACK IS WACK' MURAL
Notice how large Haring's hand gestures are- is he using his wrist or his arm to paint? Why would he need to use his whole arm when making a paint stroke for this mural?
Who are the other people around? Can you describe Haring's creative process-- how did he work? How does it relate to the way you work?
PART 4
PLANNING OUR OWN MURAL:
We discuss how our ideas and understanding of Haring's work have changed. We talk about what an artist can do for their community, how they can transform and express a voice that connects them with others.
How does Haring's voice of the urgency to address the violence and death associated with drug use compare or contrast to concerns that have surfaced in your community today? What are those concerns? How can making a mural help you to communicate them? How can a mural help your community?
What are some concerns we have in our community today?
What are some issues affecting your family, your apartment building, your neighborhood? How do those problems get bigger, circling outward to affect a city, a state, a country, a global community?
How does a local issue become a global issue?
Name the things you see affecting your life, your safety, health, education, awareness. Name some things that you can stand up against, as an artist and as a citizen.
Now that we have a list of some current issues, let's try to find visual symbols that might correspond to them...
Using paper from a large roll, draw your symbols really large- lifesize as Keith did- filling up the whole paper.

PART 5
LAYING OUT THE MURAL:
We pin up 25' x 5' roll of primed canvas to a long wall. It can be worked on at floor level, but students can circulate around the mural space more effectively if the canvas is pinned to the wall. Assign students to groups of 5. Each group spends some time working on the mural, drawing out their symbols and integrating them within the entire image, establishing a full composition.
Remember Haring's large gestures that fill the canvas space.
Remember scale.
Remember direct, bold imagery that can be seen from far away and that can communicate a succinct and clear message.
Remember to think about space- how much is left open and how much is filled up.
Always remember what is most important for you to say with your pictures. Just like Haring did.
PART 6
PAINTING THE MURAL:
We continue to work in groups as we begin to paint.
Remember to make your own unique colors by mixing paint.
Remember you can try different textures with different brushes and by painting with a dry or wet brush.
Remember you can create different opacities and saturation of color by diluting or concentrating your paint with/without water.
We use large brushes first to fill large spaces. As the paint dries we go into details using smaller brushes.
The teacher coates the entire mural with an elastic sealant to protect it from the weather. The canvas can be grommetted every couple of feet.
PART 7
REFLECTION
After staff hangs the mural on the side of the school, we can discuss our process.
What did Haring's vision and voice help us to understand about making art public?
What is different about public art from art in a gallery or a museum? How are the audiences different? How are the messages different? Why are the messages different? What is possible for an artist in a public space that is not possible in a private space like a museum?
Describe how the experience of looking at and discussing Haring's mural brought you to your own ideas about your concerns for your community, for your voice as an artist, for your conversation with your community.
How does your mural contribute to the well-being of your community? Your city? Your country? Your world? How are these impacts different, how are they similar?
Discuss your process of painting.
How did it feel to use your entire body to make an image?
How did it feel to make an image the size of your body?
How did it feel to work collaboratively?
Do you feel your symbols embodied your message? How?
What did you enjoy about painting?
Describe your impression of how your mural looks outside in a public space.
Can you see clearly the image you painted?
How does it make you feel to look at it?
How do you think it might make other people feel?
Discuss how our relationship goes from personal concerns to global concerns. Talk about how Haring did this in his mural, and how you did it in yours.
Questions
Why is this mural two sided?
Why did haring choose a handball court?
Why did haring choose to paint so large?
Why did haring choose to position the mural in that location?
Who is the audience for this mural?
What is the difference between a mural and graffiti? Learning from the accounts in which haring painted this mural, which category does haring's project fall into and why?
Does it seem odd that there is little if any vandalization on this mural?
Why do you think that is why did haring choose this location to put a mural?
It was in a dirty, unused, unpopulated place, on a wall that might be destroyed by use.
Images