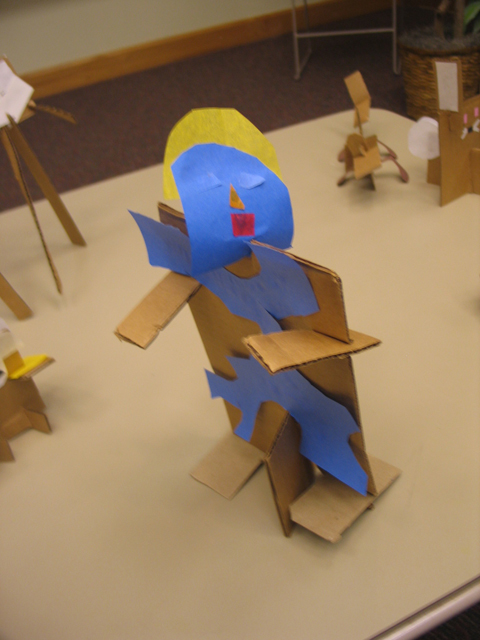 Categories
Description
This lesson was designed to parallel The Tampa Museum's survey: "Keith Haring: Art & Commerce," on view March 18 through June 11, 2006.
Local children were presented with a slide presentation of Haring's work, with a particular emphasis on Haring's large scale steel sculptures and accompanying sculptural macquettes. Students then participated in a workshop where they too could design and construct their own scaled down models of imaginary, mythic sculptures.
Objective
Students learn about the life and work of Keith Haring.
Students and their guardians learn new ways to explore the work on view at the Tampa Museum of Art.
Students problem solve to turn a two-dimensional plan (cardboard) into a three-dimensional form through cutting, sliding, rolling, scoring, shredding, and folding.
Students experiment with collage.
Students examine ways to think about scale and planning for larger projects.
Students develop a vocabulary about and through the process of art-making.
Resources
SLIDE LIST
1) Subway Drawing, Keith in subway, 1984
2) Subway Drawing, 1983
3) Subway Drawing, 1983
4) Subway Drawing, 1983
5) Untitled (Alien), 1980. sumi ink on paper. 23"x35"
6) Untitled, 1982, black felt-tip marker on paper. 19"x14"
7) Untitled, 1981, vinyl paint on vinyl tarp. 6'x6'
8) Untitled, 1980, ink, enamel and spray paint on board. 48"x46"
9) Keith Haring in studio painting tarps, 1982.
10) Untitled, 1984, acrylic on canvas. 3'x3'
11) Untitled (Self-Portrait), 1985, acrylic on canvas. 4'x4'
12) Messages to the Public, January 1982. NYC
13) Untitled ("Stairman"), 1984, aluminum. 8"x6"x4"
14) Small sculpture 1986
15) Untitled (Green Man), 1986, acrylic on cardboard. 5"x10"x9"
16) Untitled (Self-Portrait), 1989, acrylic and silver paint on cardboard. 8"x6"x4"
17) (Large sculpture replication of study above)
18) Discussing "Figure Balancing on Dog", 1989
19) Untitled ("Figure Balancing on Dog"), 1989, painted Cor-ten steel. 144"x104"x122"
20) Keith Haring with "Yellow Arching Figure" (unpainted), 1985
21) Keith Haring with "Red Dog" (unpainted), 1985
22) Keith Haring with "Red Dog", being installed, 1985
23) Installing "Headstand", 1988. Keith Haring on Park Avenue, An Exhibition of the Public Art Fund
24) "Headstand", 1988
VOCABULARY
Gesture
Figure
Sculpture
Collage
Public work
Audience
Symbol
Details
Simplify
Contour
Sequence
Inspiration
Model
Materials
Drawing paper
Pencils
Markers
Cardboard
Scissors
Glue
Colored construction paper
Magazine photographs
Procedure
1) Exploring Haring's interest in gesture, line, symbol. What did Haring keep and what did he leave out when he depicted animals or people?
2) Make a drawing of a special person or pet in your life.
3) Now make another drawing of that person leaving out and keeping all the information Haring did, turning your subject into a SYMBOL.
4) Choosing different shapes of cardboard, construct the symbol of your person or pet as a sculptural model, cutting slits in the cardboard to hold it firmly together. Afterward you may add construction paper for color or details.
Images