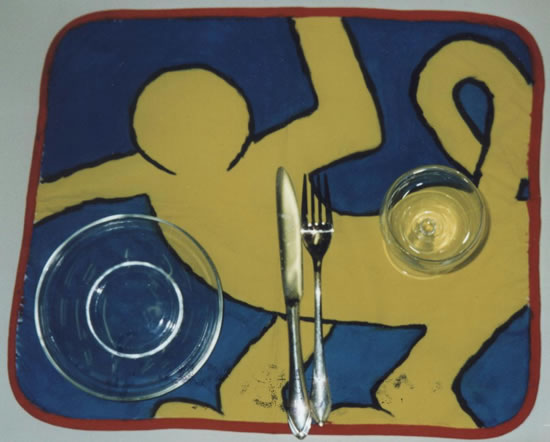 Categories
Description
Sent in by a school in Germany, this class created the perfect Haring-style table settings.
Objective
To learn about Keith Haring.
To create Haring-inspired work.
To consider the idea of functional art.
Resources
Because this lesson was sent to us from Germany, we got lots of fun vocabulary to practice!!!
"Kunst"=Art
"Stofffarbe"=Cloth paint
"Haarpinsel"=Fine paintbrush
Materials
Pencils
Paper
White placemats or cut canvas
Paint & painting supplies
Iron
Procedure
STEP 1
Discuss Keith Haring, his life, his concerns, his art, his statements.... Analyze a few works with the class together, then leave a few reproductions of Haring works on each group of tables for kids to look at. Using the same AESTHETICS as Keith Haring, have the students create 3 drawings each that raise similar concerns. Allow them to choose one to turn into a placemat.
STEP 2
Hand out markers and have students work out what colors they think would look good on their drawing.
STEP 3
Talk about traditional art materials as well as the presentation of traditional art. Then discuss functional art and where these two categories merge and complement one another. Hand out one white placemat or pre-cut canvas to each student and line their tables with newspaper or plastic bags. Have each student (prime their surface first if using canvas) draw lightly in pencil their chosen image (already sketched out on paper). They will then paint it making sure to mix colors. Make sure they paint right to the edges
STEP 4
Iron the back of the placemat to fix color, or bind the edges with yarn or binding tape if using canvas. This will prevent the canvas from fraying and make the placemat look finished.
Extensions
Images