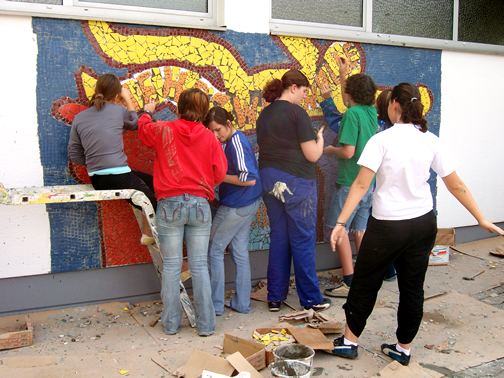 Categories
Description
These 8th graders from a town in Germany were invited to create a public mosaic for their local town hall in Bullay. Inspired by Keith Haring, the students chose bold, colorful figures to depict their message.
Objective
For students to collaborate with their local community on a project.
For students to see a complicated, collective project through from start to finish.
To share Keith Haring's life and work with students.
Materials
White paper
Pencils
Felt-tip markers (permanent)
Transparency paper for overhead projectors
Tiles
File adhesive
Hammer
Caulking
Ladders and/or scaffolding
Spatula
Buckets
Rags (old towels or sheets)
Procedure
DRAWING THE DESIGNS
1. The pupils drew pencil sketches on white paper.
2. They colored the in the drawings with felt-tip markers.
3. The mayor of Bullay chose the most suitable design.
4. The students copied the chosen drawing onto trasnparency paper.
5. The design was transferred to the wall using an overhead projector.
6. Students drew in the outlines with a black, permanent marker.
PROJECT DAY
1. Some pupils broke the tiles into smaller pieces uing a hammer. Others prepared tile adhesive, while some began sticking the tiles to the wall.
2. After lunch break at 2pm, the pupils began to fill in the gaps.
3. After the filler had dried we tore the bedsheets into small pieces of cloth to remove the filler from the tiles and to polish them so that the mosic was visible again. The pupils finished their work at 6pm.
Images