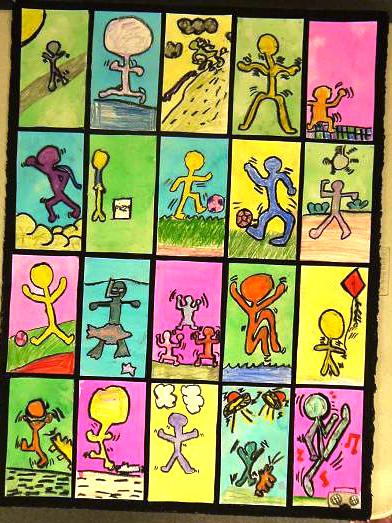 Categories
Description
Teens at Floral Park Public Library were asked to design two collaborative wall pieces inspired by the works of Keith Haring. The completed works will be framed and displayed in the young adult area of Floral Park public library.
Objective
A librarian requested the teens at Floral Park public library to work collaboratively in creating two wall pieces, sized 22" x 30" inspired by the works of Keith Haring. The size was restricted to the available wall space in the library.
Resources
As an introduction to Keith Haring's works, the teens viewed a selection of art visuals created by Haring. Many examples can be found at www.haringskids.com. We discussed how Haring's work often reflected the energy and enthusiasm of adolescents, and his uplifting color and stylized figures make his work enjoyable and approachable for many.
Materials
2 -22" x 30" archival watercolor sheets (cut into 4" x 7" shapes, 40 total )
2 - 22" x 30", archival sheets watercolor paper - for mounting images
Pencils
Ruler or yard stick
Scissor
Crayons
Black oil pastels
Concentrated watercolors, (magenta, yellow, blue & green) diluted with water
Water cups and brushes
Paper towels for drying individual works
Clear, tacky glue
Procedure
The teens were given 4" x 7" watercolor sheets and used pencils and crayons to draw action oriented figures. Black oil pastels were used to outline the figures and watercolors were used to paint the background on each image. Background colors were chosen in advance, in order evenly distribute the colors throughout the two completed wall pieces. 40 completed images were evenly distributed between the two, 22" x 30" sheets of watercolor paper. The mounting papers were gridded off in advance using pencil and black oil pastel in order to add a visual frame around individual works. Clear, tacky glue was used to adhere the individual works onto the prepared watercolor sheets.
Questions
What symbols appear frequently in Haring's works and why?
What is the significance of Haring's choice of colors in his works?
How would static figures make Haring's work feel differently?
Why does Haring's work appeal to so many people?
Extensions
Teens were asked to create their own individual works after completing their mini, action figure paintings. The individual works really reflected individual personalities and included bold compositions. Lively discussion continued when the two wall pieces were put together and each teen pointed out and discussed with pride, his or her work with their friends.
Check out the tutorial at www.theartannex.com
Images