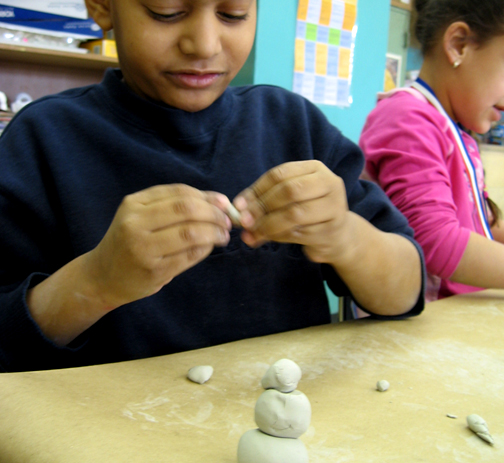 Categories
Description
THIS LESSON USES THE NYC BLUEPRINT LEARNING STANDARDS.
Elementary students experiment with clay before making their own imaginary animals.
This lesson accompanies the following additional lessons:
"Creating a Cranimal"
"Cranimals in 3D"
"Paper Sculpture Habitats"
Objective
The students will learn about animals.
The students will have their literacy reinforced by working with pieces of animal names to invent a new animal.
The students will use their drawing skill.
The students will work cooperatively with a partner.
Resources
Photographs of (or a walk to) nearby public sculptures
Images of Keith Haring's public sculptures and 3D pieces
Materials
Art Historical images
Pictures of public sculptures
Brown paper to cover tables
Clay
Clay tools
Procedure
MOTIVATION
For the students to be introduced to working with clay.
VOCABULARY
Clay, 3D, sculpture, push and pull (in terms of clay).
PROCEDURE
Students will gather on the carpet. We will look at the clay, pictures of public sculpture, and examples of Keith Haring's public sculpture and 3D work.
Key Questions: Can anyone tell me something about clay? Where does it come from? How may it be used? Can anyone name something that is made out of clay? How do you think it was made? How do you think this clay can become hard? Does anyone know what sculpture is? There are some sculptures that we see everyday here in our neighborhood - can anyone think of any? How many people do you think get to see it? What does it mean for a sculpture to be placed outside in public? Who might take care of it?
Demonstration with clay: Talk about the properties of clay. Go over pinch, coil, push and pull. Ask students to come up with some ideas of things to make with the clay.
Students go to sit at desks: Before giving out the clay to the students, explain that today everyone should play with the clay, and try to experiment making many different things. Let them know that at the end of the class everyone will roll their clay back into a ball so it can be used by other students.
Students work: Students work with the clay for the remainder of the class. Periodically gather their attention and tell them about some of the things that have been created so far in the class.
Closure: At the end of the class the students are to roll their clay back into a ball. Remind the students that artists don't always make a work of art when they work. Let them know that they will have the chance to make something more permanent out of clay.
Extensions
Assessment: Assessment will strive to understand how well the students understood how to manipulate the clay. Ideally each student will use their clay to create three or four different things during the class time.
Enrichment & Reinforcement: The next lesson will consist of making model magic versions of their Cranimals.
BLUEPRINT LEARNING STANDARDS FOR THE ARTS
1. Art Making: Students work with clay.
2. Literacy in the Arts: Students are introduced to sculpture vocabulary.
3. Making Connections: Students think about where clay comes from, and what it is used for.
4. Community and Cultural Recourses: Public Sculpture.
5. Careers and Lifelong Learning: Students think about people who use clay for things other then art.
NY STATE STANDARDS EMPLOYED
1. creating, performing, participating
2. knowing and using materials
3. responding and analyzing works of art
The author of this lesson, Marie Antonelli, a Masters in Art Education student of the School of Visual Arts in NYC, is the 2005-2006 scholarship recipient of the Keith Haring Scholarship award. This project is a collaboration with The School of Visual Arts & a local NYC public high school.
To find out more about The Keith Haring Foundation Scholarship offered through the School of Visual Arts, please contact: Director, School of Visual Arts/Visual Arts Foundation, 15 Gramercy Park South, NYC 10003 or SVA's web site.
Images