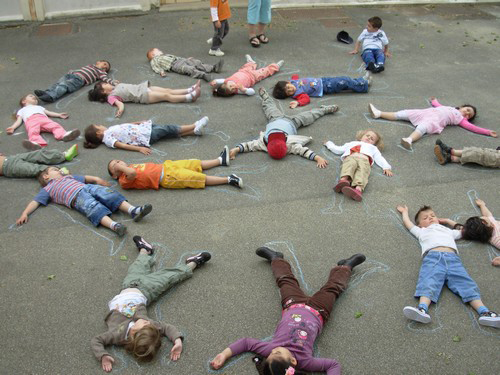 Categories
Description
After a dance lesson about statues, these youngsters looked at Keith Haring pictures and drew their own silhouettes on the asphalt outside their school.
Objective
To learn new words: silhouette, outline, to fill up, position.
To learn how to trace a silhouette.
To study the art of Keith Haring.
Materials
Keith Haring pictures
Chalk (white and colored)
Camera
Procedure
INTRODUCTION
First we work on a series of dance lessons, learning to be a statue with lot of different positions (alone, by 2 or in a group etc).
STEP 1
We looked at Keith Haring pictures on the computer and asked:
How is it drawn?
Do you see eyes, hair, clothes?
What kind of color is used?
How is the outline?
STEP 2
We go outside and the students then lay down like frozen statues and the adults trace their silhouettes with blue chalk.
STEP 3
Each pupil traces over the blue outline a white line of chalk.
STEP 4
We take photos of the whole drawing, and then go back to lay down in our own silhouettes.
Are the arms, the legs in the right position?
Then we take photos again, choosing the silhouette of another child to lay down in.
Images