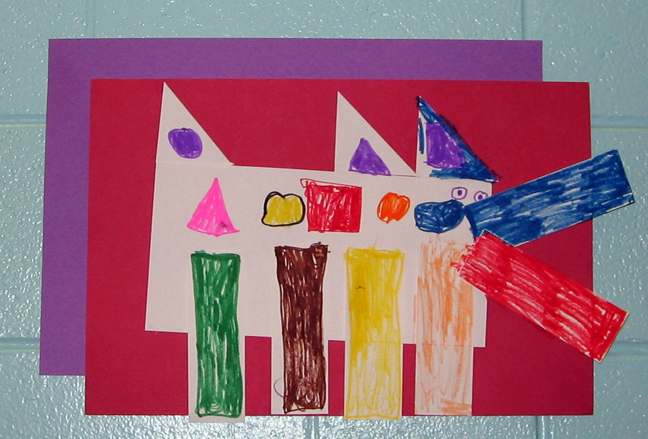 Categories
Description
Pre-K and Kindergarten children create collage dogs, similar to those of Keith Haring, using paper cut-out rectangles and triangles.
Objective
Students will be able to assemble a dog collage using paper cut-out triangles and rectangles.
Students will be able to identify and draw a circle, square, rectangle and triangle.
Students will be able to identify 11 colors (red, yellow, blue, green, orange, black, white, gray, brown, purple and pink).
Resources
Examples of Haring's artwork (especially dog images)
"Dog's Colorful Day - A Messy Story about Colors and Counting" by Emma Dodd
Materials
12"x18" Construction Paper
White paper scraps (6x9, 2 1/2x4, small triangle)
Markers
Glue & glue applicators
Procedure
CLASS 1
Introduce the lesson by sharing with the children "Dog's Colorful Day". The dog in this short book begins his day with one black spot on his ear and then encounters 9 additional "messes" to make him look quite colorful. Following the story, introduce Haring's dogs. Discuss with the children the different colors and shapes they see when looking at his artwork. Demonstrate how to assemble the body of the dog using 1 large paper rectangle for the body, 2 small paper rectangles for the mouth, 4 small paper rectangles for the legs, 2 paper triangles for the ears and 1 paper triangle for the tail while reviewing glue techniques. Students will use white paper shapes to create a dog on 12"x18" construction paper.
CLASS 2
Recall shapes and colors discussed in CLASS 1. Show the students a variety of ways to add shapes to their own dogs with a variety of colors. The students will use markers to decorate their dogs with the colors and shapes of their choice.
Questions
1. Why do you think the artist Keith Haring wanted to paint dogs?
2. Do you think he had a pet dog?
3. Which shape is the easiest to draw? Which shape is the most difficult?
4. Would you like to work with a group of children to create a piece of art that many people would see?
Images