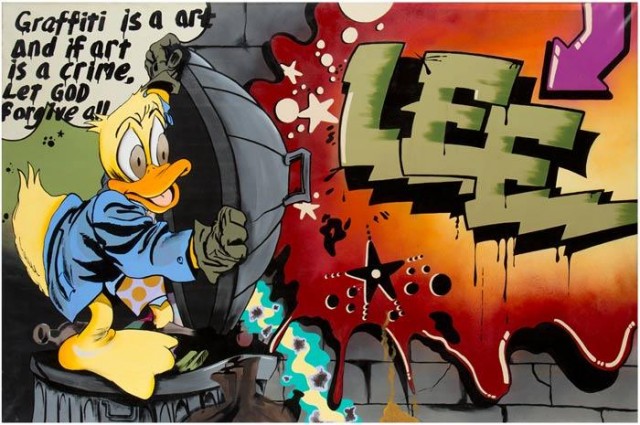 Categories
Description
This guide is intended to be used as a resource for teachers either preparing to visit the Museum of the City of New York's City as Canvas: Graffiti Art from the Martin Wong Collection or to use in the classroom following a class visit.
During the gallery tour of the City As Canvas exhibition, students will view highlights from the Museum's rich collection of 1970s and '80s graffiti art in New York. By analyzing the drawings, paintings, photographs and blackbooks collected by Martin Wong, students will learn about New York City artists known as "writers", like Keith Haring, Lady Pink, Lee Quiñones, and Daze, and the historical context in which their work was created. Students will be able to elaborate on the multiple perspectives surrounding street art, discuss the various styles represented, and will respond creatively to the pieces by drafting their own sketches.
The information and activities in this guide correlate to the guided tour, but may also be taught as stand-alone lessons utilizing the text, images, and suggested activities. Teachers are encouraged to adapt the information to the grade level and ability of their students. For further information or to schedule a visit to the Museum of the City of New York, please email the Frederick A.O. Schwarz Children's Center at schoolprograms@mcny.org
Objective
During the course of the gallery tour, students will:
• Consider what New York City was like in the 1970s and '80s
• Learn how graffiti emerged as a form of self expression and how it evolved as an art movement over time
• Consider the various reactions for and against street art
• Analyze the different styles created by the writers, and understand some of their motivations behind their creations
• Analyze the artworks to learn about individual artists, such as Lady Pink, LEE, Daze, LAII, and Keith Haring
• Consider the international impact of graffiti
Resources
Suggested Reading
Books
Cavalieri, Paul. From the Platform: Subway Graffiti, 1893-1989. Atglen: Schiffer Publ, 2011.
Gastman, Roger, and Caleb Neelon. The History of American Graffiti. New York: Harper Design, 2010.
Litwack, Matt. Beneath the Streets: The Hidden Relics of New York City. Gingko Press, 2014.
Stewart, Jack, and Regina Stewart. Graffiti Kings: New York City Mass Transit Art of the 1970s. New York: Melcher Media/Abrams, 2009.
Wong, Martin, Sean Corcoran, and Carlo McCormick. City As Canvas: New York City Graffiti from the Martin Wong Collection. New York, NY: Skira Rizzoli: Museum of the City of New York, 2013.
Films
Ahearn, Charlie, Lee G. Quinones, 5 F. Fab, Flash Grandmaster, Bee Busy, Sandra Fabara, Clive Davidson, John R. Foster, Bernd Nobel, Larry Sharf, Steve Brown, and Chris Stein. Wild Style. New
York, N.Y., 2002.
Silver, Tony, Henry Chalfant, Sam Schacht, Burleigh Wartes, Sam Pollard, Mary Alfieri, and Victor Kanefsky. Style Wars. Los Angeles, Calif: Public Art Films, 2004.
Banksy, Jaimie D'Cruz, Holly Cushing, Zam Baring, James Gay-Rees, and Rhys Ifans. Exit Through the Gift Shop. Harrow, England: Paranoid Pictures Film Company Limited, 2010.
Materials
Copies of the primary texts included in the guides.
Procedure
Artist Spotlight: Keith Haring
Background Read
The following is text from the Museum's exhibition. Print copies for students to read individually or as partners. Ask students to underline key pieces of information and then share either as a class or in a group what they have learned about Keith Haring.
Keith Haring: Biography
In 1978, Keith Haring moved from Pennsylvania to New York to study at the School for Visual Arts. By the following year, Haring had become interested in the graffiti writing movement. In 1980, impressed by the energy of the art he saw in the subway, he created numerous drawings on blank advertising panels throughout the subway system with his characteristic style of fluid, rhythmic lines. Haring used the subway as a laboratory, creating drawings on blank advertising panels as he worked out ideas and developed his visual vocabulary of symbols. Haring later joined forces with a teenager named Angel Ortiz, who tagged as LAII, and the two collaborated on numerous projects together. Haring's work was often heavily political and his imagery

had become a widely recognized visual language, both in the U.S. and internationally. Striving to make his work as widely available as possible, he opened the Pop Shop in SoHo in 1986. The space was covered floor to ceiling with his drawings and served as a meeting space and store where one could buy t-shirts, posters, and buttons of his work. More than perhaps any other graffiti artist, Haring enjoyed both national and international recognition. Haring died in 1990 of AIDS-related complications at the age of 31. His work can be found in many museum collections.
Keith Haring: AIDS Dance-a-thon
Keith Haring (1958-1990) AIDS Dance-a-thon Date: 1991, Registration for a five hour
fundraising dance extravaganza, Saturday, November 30, 1991. X2011.12.133
Keith Haring: Obituary
New York Times
Keith Haring, Artist, Dies at 31; Career Began in Subway Graffiti
By ANDREW L. YARROW
Published: February 17, 1990
Keith Haring, an artist whose graphic talents made him one of the stars of the youthful 1980's art scene and whose images could be found as often on T-shirts as in museums, died of AIDS yesterday at his home in Manhattan. He was 31 years old.

During his brief but meteoric career, Mr. Haring invented a cartoonish universe inhabited by crawling children, barking dogs and dancing figures, all set in motion by staccatolike lines. This universe was first mapped in the New York City subway system, where the young artist, still a student at the School of Visual Arts, was inspired by what he considered the beauty and immediacy of graffiti.

But Mr. Haring was a graffiti artist with a difference. Instead of painting subway cars, he drew with white chalk on the black paper pasted on unused advertising spaces, working in a distinctive style that became widely known before anyone knew the artist's identity. From these beginnings emerged a style of illustration that became known throughout the world and a mode of distribution that largely circumvented the traditional art gallery system. Mr. Haring said he was committed to being accessible. Not only were his images widely considered irresistible and the morality tales they told easy to comprehend, but his work, at least in the beginning, was also easy to own.
Questions
Questions for consideration:
What makes Keith Haring's imagery immediately recognizable?
How do you think Haring's piece adds to the message of the flyer?
Can you think of other artists whose work has been used to support social
activist messages?
When Haring died in 1990, his friends and colleagues in the art world gathered to
celebrate his life. Read the obituary published in the New York Times. What
made Haring's work unique?
The Times states "But Mr. Haring was a graffiti artist with a difference." What made him different from other graffiti artists?
Why do you think he wanted his work to be accessible? Do you think it is? Why or why not?