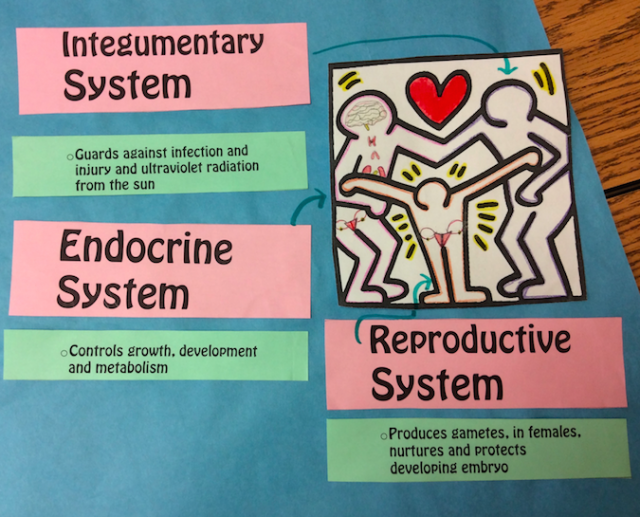 Categories
Description
Student groups create a "mural" of 11 body systems, utilizing Keith Haring coloring pages
Objective
Familiarize students with the basic structures and functions of organ systems
Resources
Text book
Materials
Keith Haring coloring pages
colored paper
colored poster paper
markers, colored pencils, crayons
glue sticks, scissors
music
Procedure
An introduction was given, including information about Keith Haring's artwork (I have a book and several images in my room already). Examples of his murals were shown on the overhead during the activity for inspiration.
Sort students by:
Artists
Organizers
Researchers
Writers
Reporters
Group students in 5s or 6s
Poster has title "Organ Systems"
Each picture of a figure has :
A. Subtitle : Name of organ system
B. Major structures of the organ system (titled "structures")
C. Major functions of the organ system (titled "functions")
Students were challenged to keep all teammates involved and to complete task within 80 minute class period. Most were able to accomplish this.
Extensions
Students could draw their own figures, time permitting
Images