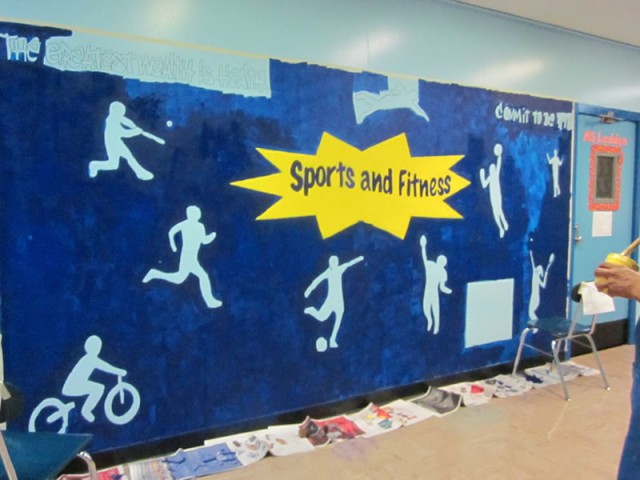 Categories
Description
My 5th graders discussed what topics they considered important enough to provide a lasting legacy at their elementary school before heading off to middle school.
Several ideas were brainstormed and voted on. They decided that they wanted to showcase "sports and fitness" while showing haring style figures in motion.
Objective
We wanted to build on the idea of figures in motion staying fit and keeping active.
Resources
Prior to this lesson my art students had made Haring figures with complementary neon paint - http://www.artsonia.com/museum/gallery.asp?exhibit=636441
Materials
We used mural paint from enasco- sharpie markers with large chisel tips for outlining our figures and making 'motion marks'
Procedure
Students first looked at the figures that Keith Haring Painted, we discussed stick figures and how to create a basic one that they could plump out and erase the inner stick armature. They learned about complementary colors and made some fun neon paintings.
We then looked at posters and murals with a message and decided on what we wanted to theme our mural on. The students worked in small groups during their lunch hour or during other classes -in groups of about 6 at a time.
I projected up a basic outline of our mural and the students and I traced it onto the wall with black sharpie. We then filled in the background, followed by text and figures and finished it off with thick outlines in sharpie marker. The participating students signed their names with a metallic marker in a designated square.
Images