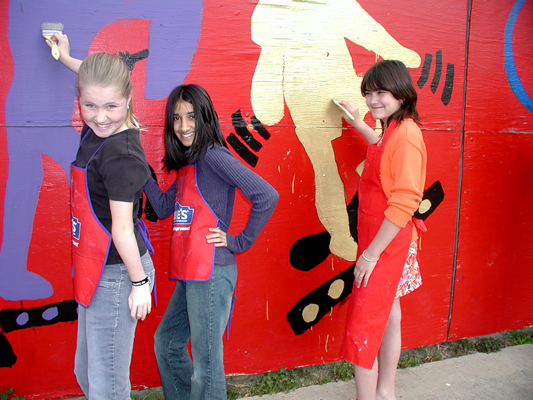 Categories
Description
Students from Florida create a public mural of figures participating in an Olympic sports, in the style of Keith Haring.
Objective
Students will develop an appreciation and critical understanding of Keith Haring's work, and public art.
Students will work collaboratively on a public project, participating in cooperation and teamwork to complete the project.
The school will have a bright and bold wall that showcases the work of its students.
Resources
Materials
11" x 17" White paper
Sketch paper
Computer visuals
Colored markersResources (learning standards, visual aids, web sites, stories)
Procedure
STEP 1
Read hand out and view computer visuals. Discuss public art and murals. Ask students to sketch a person in the style of Keith Haring involved in an Olympic sport. Discuss Olympics (began in 776 BC in Ancient Greece to promote peace and fun among all people).
STEP 2
Enlarge sketch onto 11" x 17" paper with pencil, hold horizontal or vertical depending on design. Draw over pencil lines with thin black marker, color with bright colored markers. Add any details like black dots to design.
STEP 3
Critique designs tell how they are similar and different from Keith Haring designs.
STEP 4
Create a mural with designs - have students lie on newsprint in the position of their Olympic person, trace and transfer to mural space- a fence, a wall (inside or outside), a window...
Images