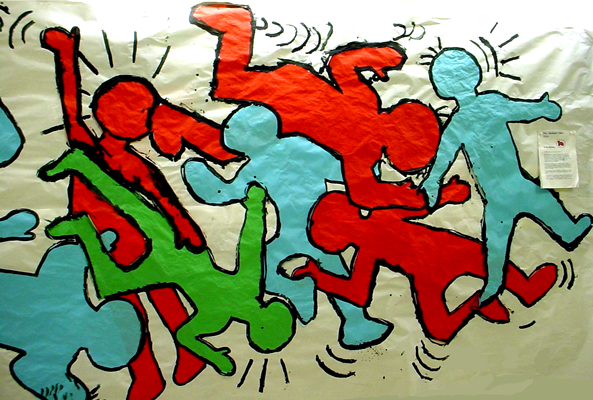 Categories
Description
Small groups of students danced to music in the hallway, while tracing their bodies in movement poses on colored paper. They were cut out, glued onto one large sheet of paper, and outlined in black paint to brighten up our school hallway.
Objective
To share the work of Keith Haring with young children.
To allow children to express themselves physically using music.
To show movement and expression without using facial expressions.
To explore using bold lines and colors to tell a story.
To empasize working collaboritively in small groups.
Resources
Keith Haring's website for kids
The book "10"
The coloring pages on Keith's website
Materials
Pencils
Rolls of colored paper
Scissors
Glue (and glue brushes)
black paint,
White roll of paper (mural)
Music
Procedure
STEP 1
Children chose a color paper they wished to be traced on.
STEP 2
Children paired up and traced one another onto the colored paper. Music was played and the children were asked to "freeze" in their favorite pose in which they wished to be traced.
STEP 3
Adults help to cut out the tracings.
STEP 4
The children then applied glue to the cut outs using paint brushes.
STEP 5
The adults helped the children place their cut outs onto the mural paper (we encouraged creativity here, upside down, sideways, overlapping one another)
STEP 6
The children then took black paint and outlined their cutout and added rays, squiggly lines, etc. to the mural, as Keith Haring did in his paintings.
Questions
Can you find the cut-out shape of your pose?
Explore the words pose and position, what do they mean? What about figure?
Extensions
Saugatuck Elementary's web site
Images