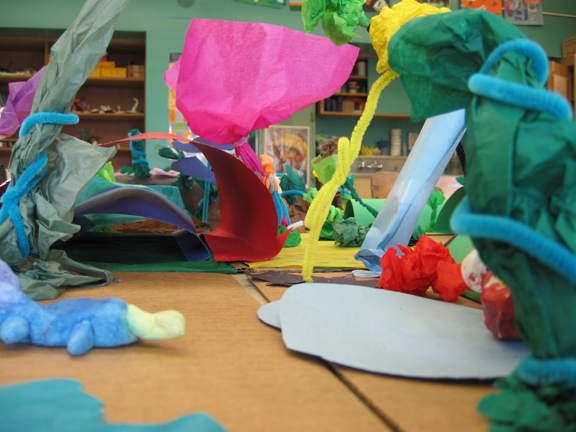 Categories
Description
THIS LESSON USES THE NYC BLUEPRINT LEARNING STANDARDS.
Elementary students design their own mix and matched animals, using a lesson framework that emphasizes transformation, then they create an entire ecosystem for them using 3-dimensional collage materials.
This lesson accompanies the following additional lessons:
"Clay for Fun"
"Cranimals in 3D"
"Creating a Cranimal"
Objective
The students will develop skills in sculpture.
The students will learn that sculpture can be made in a variety of ways.
The students will learn about different ways paper can be manipulated.
The students will gain experience in collaboration.
Resources
Nature photographs of animals
Students' work from last week
Materials
Poster of Animal pictures with their names
Drawings that the students completed last week
Cardboard
Glue
Scissors
Construction paper
Tissue paper
Pipe cleaners
Tape
Additional craft materials
Procedure
MOTIVATION
To engage the students creatively through melding different animals into a new one of their design.
VOCABULARY
Imagination, animal names, combine
PROCEDURE
DAY 1
Students will gather on the carpet. We will talk about last week's lesson making Cranimals out of model magic. We will talk about where our Cranimals live, and what kinds of things the need to survive.
Key Questions: Who can tell me what we did last week? What could we do next with our Cranimals. We could make them a home. What things might they need where they live? What do you think could make them happy? Does anyone know what the word habitat means? How could we use paper to make them a habitat?
Demonstration: Ways that paper can be used. Making trees. Using pipe cleaners.
Students return to their seats: Each student will be given a piece of cardboard to use as a base. Each table will receive a big box of materials that can be used to create habitats. Students will work for the remainder of the period, with frequent stops so that ideas can be shared.
DAY 2
Students continue to work on their habitats. Class will begin with students are their seat. There will be a review about habitats and the types of things that would be good to put in them. It will be alluded to that these pieces might be all combined together. Students work for the remainder of the period, with frequents stops to share ideas and refocus.
DAY 3
Students come into class to find that all of their habitats are assembled together with their Cranimals in them. We gather around and spend 10-15 minutes talking about the Cranimal World. Each student will be given the opportunity to say something about their habitat.
Extensions
Assessment: Students will be assessed during class time and by their work. Comprehension of ideas will also be checked for and noted. Assessment will strive to understand: How well the students understood and explored the idea of using push and pull etc. to create their Cranimal, and how they addressed their sculpture as a 3D object.
Enrichment & Reinforcement: Looking at all of the work together.
BLUEPRINT LEARNING STANDARDS FOR THE ARTS
1. Art Making: Students create paper sculptures.
2. Literacy in the Arts: Students discuss their artwork.
3. Making Connections: Students have to think about what they know about their world and the necessities for animal life.
5. Careers and Lifelong Learning: Students gain experiences working individually to create a piece of a greater whole.

NY STATE STANDARDS EMPLOYED
1. Creating, performing, participating
2. Knowing and using materials
3. Responding and analyzing works of art
The author of this lesson, Marie Antonelli, a Masters in Art Education student of the School of Visual Arts in NYC, is the 2005-2006 scholarship recipient of the Keith Haring Scholarship award. This project is a collaboration with The School of Visual Arts & a local NYC public high school.
To find out more about The Keith Haring Foundation Scholarship offered through the School of Visual Arts, please contact: Director, School of Visual Arts/Visual Arts Foundation, 15 Gramercy Park South, NYC 10003 or SVA's web site.
Images