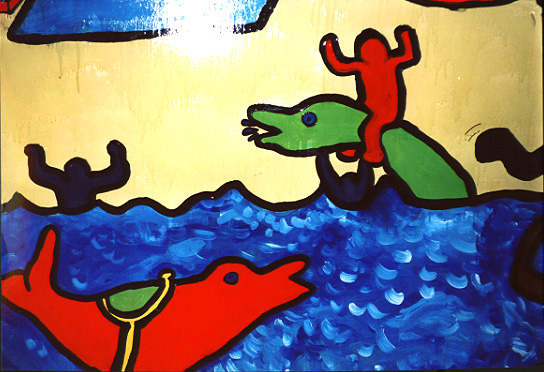 Categories
Description
This lucky school in Germany was asked to decorate the hallways of a local community swimming pool. Using Keith Haring's art as inspiration, 15 students set out to fill the walls with colorful, bold, and fun designs along the theme of swimming.
Objective
To expose students to art practices outside of a classroom setting.
To inspire students through another artist's aesthetic sensibility.
To allow students to assimilate Haring's sensibilities into their own understanding of color, line, and shape.
Through a collaborative project, students develop team-working skills while working towards a positive, enriching cause.
Materials
For the drawing of the designs:
White drawing paper
Pencils
Felt-tip markers
For the project day:
Scaffolding (Gerüste von Malerbetrieben)
Overhead projector
Tinting paint or Acrylic paint (Abtönfarbe)
Black permanent marker
Transparent Laquer, shellac, or polyeurothane (Klarlack) Painting supplies
Procedure
DRAWING THE DESIGNS
1. Drawing Figures in Keith Haring's style on a sheet of paper, the task is to change the figures to make that fit into the theme of "swimming".
2. The drawings are coloured in with felt-tip markers.
3. The pupils chose the most suitable designs to transfer on to the walls of the swimming pool in Alf.
4. We copied the chosen designs onto transparencies (acetate).
PROJECT DAY AT THE SWIMMING POOL
1. The day before the project day for the pupils, their teacher and assistant teacher put up the scaffolding and brought over all of the equipment.
2. We projected the transparencies with an overhead projector onto the walls and the ceilings.
3. With the transparency drawings enlarged on the walls by the overhead projector, we drew the outlines of the pictures on the walls with a black, permanent marker.
4. We painted all of the drawn pictures on the walls.
5. When the pictures were dry, we painted them with clear laquer (or polyeurothane) to seal them and protect from moisture and decay.
Questions
How does it feel to work outside of the classroom?
What did you learn doing this project?
What would you have done differently if you could do it all over?
How would you feel if you walked into a space that was painted like this?
How do you think others may feel being exposed to your work?
Was this project a gift to those who would visit this building, or was it a lesson for you as students? Why?
Why is it so important that art is in public places?
Can you think of other forms of public art you've seen?
Do people always have permission before they make a public piece of artwork?
Why would someone make art without obtaining permission? Why is it so important to seek the approval of others before you begin a public body of work?
How does working on a piece of art independently compare to working on a collaborative project?
Why is Haring's work so suitable for inspiration on this project?
Images