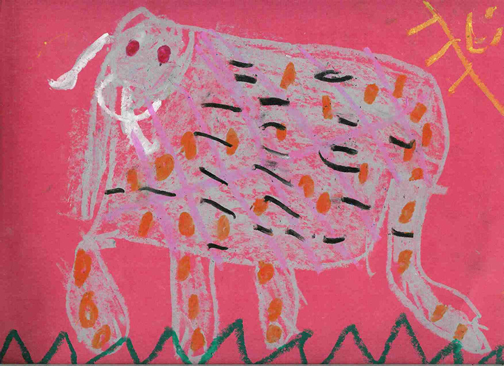 Categories
Description
THIS LESSON USES THE NYC BLUEPRINT LEARNING STANDARDS.
This lesson is part one of a three lesson unit designed to teach young students (first or second grade) about various types of line, and pattern. This lesson allows children to learn how illustrators apply their knowledge of line and shading techniques to denote texture.
Objective
Students will...
Learn different kinds of marking techniques.
Look more carefully at animals and other things that they encounter for pattern and line.
Divide subject matter into smaller shapes.
Learn to use art materials in situations requiring detail vs. situations requiring more coverage.
Resources
Subway drawings by Keith Haring
Reading: Details of illustrations from "Where The Wild Things Are" by Maurice Sendak
Haring web sites
Haring Exhibition catalogs
Materials
Crayons, assorted colors
One white crayon for each student
Watercolor set
Brushes
Water cups and water
Newspaper
Large sheet of plain paper
Procedure
MOTIVATION
Many children are familiar with the work of Illustrator Maurice Sendak. Students will discover ways of using their knowledge of line and shading techniques to create visually rich illustrations.
VOCABULARY
Intersect hatching
Cross hatching
Stippling
Pattern
Shading
Illustrator Technique
Environment

CLASS ONE
Introduction
Students will be shown illustrations from the book "Where the Wild Things Are", Illustrated by Maurice Sendak. They will identify texture and shading techniques learned about in the previous lesson.The class will examine the animal parts Sendak uses to create his wild things, and at creatures created by Keith Haring in his subway drawings.
Demonstration
Students will watch a demonstration of an imaginary animal being drawn, in craypas. The teacher will adding on parts based upon ideas volunteered by the class. This body will be shaded in lightly using the same color cray-pas as the outline.
Procedure
Students will begin drawing their creatures basic structure and filling them in.
As soon as most students have finished the shape for their creatures body, there will be another group meeting.
Students will examine pictures of various animals with pattern and texture.
The teacher will demonstrate adding various shading techniques to the animal to create texture and pattern, referring to a chart created in the previous lesson, and suggestions from the students. Students will begin to add texture to their animals' bodies.
CLASS TWO
Discussion:
Lines and patterns can give clues about texture. Warm up by looking at pictures of animals with various textures. What sort of lines would you use to draw the texture?
Take a look at some artwork in progress. What texture would these animals have? How can you tell?
Students will return to their drawings, and add pattern to their creatures, using as many as they can. When they finish they will add lines and pattern to the backgrounds to create environments for their creatures.

SUMMARY
During a closing discussion, students will talk about their work. Students will be asked to hold their drawings up for the class if they used a particular shading technique, reinforcing the key terms and giving the class a chance to discuss the effect of the technique.
Extensions
BLUEPRINT STRANDS FOR LEARNING IN THE ARTS
1. Art Making
Students will explore the use of pattern and shading in describing texture.
2. Literacy In Arts
Students will apply art vocabulary during a group discussion of their drawings. 3. Making connections through visual arts
Students will learn about illustrator Maurice Sendak
NY STATE STANDARDS EMPLOYED 1. Creating, Performing and participating in the arts.
2. Knowing and Using Arts Resources and Materials.
3. Responding and Analyzing Works of Art.
The author of this lesson, Kellie Rilla, a Masters in Art Education student of the School of Visual Arts in NYC, is the 2004-2005 scholarship recipient of the Keith Haring Scholarship award. This project is a collaboration with The School of Visual Arts & a local NYC public elementary school.
To find out more about The Keith Haring Foundation Scholarship offered through the School of Visual Arts, please contact: Director, School of Visual Arts/Visual Arts Foundation, 15 Gramercy Park South, NYC 10003 or SVA's web site.
Images