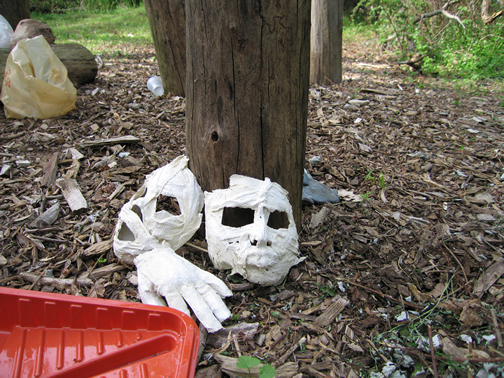 Categories
Description
A favorite of Keith's, Children's Village students build an outdoor totem pole while they explore the relation between place and identity.
Objective
Students will work collaboratively.
Students will conceive and realize a site-specific outdoor work of art.
Students will examine themes of power, place, and identity.
Materials
plaster strips
water
bucket
scissors
acrylic paint
leather
epoxy
ceramic tiles
glue
mirror
small logs
polyurethane
cement
shovel
Procedure
MOTIVATION
To create our own totem poles. First, we will look at imagery on the origins and history in Native American culture. How themes of identity and power are represented in the visual symbols of animals and leaders. Next, to explore what our sense of place and identity is. Meaning, things we can relate to and symbols we feel connected to, but also how to represent a sense of place at The Children's Village. How we can visually describe where we are.
CLASS ONE
Slide examples and books examples of totem poles. Talking about building up to a large scale by beginning on a smaller scale. We will make plaster masks of our faces today. We will do this outside in the woods. Everyone will take turns getting a mask of their own face by helping apply the plaster strips and water. Materials Used: plaster strips, water, bucket, scissors
CLASS TWO
We will decorate our masks using color and leather. Using strips, pieces, and fragments of leather we will glue and sew patches of leather onto our masks to investigate an associate to skin. Also, we will use a variety of colored acrylic paints to decorate our masks. Materials Used: acrylic paint, water, leather, epoxy
CLASS THREE
We will stake out an area in the woods for working and setting up our totem pole. We will also find a log we want to use to begin working on our totem pole.
CLASS FOUR
We will work outside on our totem pole. We will begin painting colors and symbols on it that we identity with. Materials Used: acrylic paint, water
CLASS FIVE
We will mosaic parts of the totem pole with tiles and mirrors. Materials Used: ceramic tiles, glue, mirror
CLASS SIX
We will finish up our totem pole by attaching our masks and using a weather protectant sealant to cover the entire totem pole. polyeurothane
CLASS SEVEN
To finish the totem pole by placing into the ground. We will dig a hole and use cement to secure the totem once it is in place. Materials Used: cement, water, shovel
Extensions
Children's Village's web site.
Images