Fame, that elusive prize after which people in our society incessantly lust, can be double-edged for an artist. Before he was twenty-five, Keith Haring's New York City chalk subway drawings had made him a star. Yet hindsight reveals that during Haring's lifetime, his swift rise to international celebrity status obscured the significance of his artistic achievement. The media, whose ferocious embrace was part of the unprecedented celebrity feeding-frenzy of the 1980's treated him as a phenomenon of the era. Magazines and newspapers regularly recorded Haring's activities. They mentioned his travels to Europe and Japan, his MTV appearances, his mural-painting performances and subway works. People Magazine covered him in December, 1983. For Valentine's Day, 1984, Vanity Fair, that bible of '80s glitz, greed, and glamour, invited Haring to create the magazine's cover. Newsweek featured him in October, 1984. In May, 1986, Advertising Age was only one of the trade magazines to write about the opening of Haring's controversial Pop Shop in Lower Manhattan.
Though art magazines regularly ran short reviews of his gallery exhibitions, editors and critics rarely understood that much of the artist's major work took place publicly in other, more accessible venues all over the world. It is also striking that most of the longer articles about him before he died in 1990 either assigned his work to the category of graffiti art or were formulated as interviews rather than as analytical essays. Indeed, those interviews and Haring's introspective diaries (to be published in 1996 by Viking Penguin with an introduction by Yale professor, Robert Farris Thompson) reveal that the artist himself was the most eloquent assessor of his own work.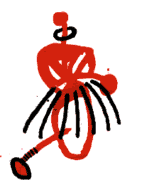 Perhaps while he was alive critics were too dazzled by this precocious artist's extraordinary populist energy to see clearly what he was doing. It was a remarkable thing, even in the rich cultural and social ferment of New York in the 1980's. By the middle of the decade, hoards of people who never went to art galleries were wearing Haring's buttons and T-shirts and the artist himself was moving in circles usually reserved for rock and roll heroes. Though he sometimes worried about being ignored by the critics, the almost instantaneous popularity of Haring's work effectively undermined the power of critical sanction.
Haring always refused to remain within the confines of the art world or to accept its tacit operating rules. Even when he was an art student-first at the Pittsburgh Center for the Arts (1978) and then at the School of Visual Arts (1978-1979), this artist rejected what he saw as the elitist conventions of the gallery and museum systems. "I am interested in making art to be experienced and explored by as many individuals as possible with as many different individual ideas about the given piece with no final meaning attached," he wrote in 1978 when he had first arrived in New York.
Haring never lost the sense of social responsibility which initially had surfaced when he was in his teens. His commitment to social activism only increased after he learned he had AIDS. Part of the generation simultaneously shaped and decimated by the disease, he responded to his illness not by withdrawing from the fray but by working with unmitigated urgency and a whirlwind intensity until the end.
He was not immune to the art world's seductive efflorescence in the eighties. Nevertheless Haring persistently believed (even after he was dealing with the system) that "Art is still being manipulated by and for the wealthy, educated, WHITE minority."' He wished to reach far beyond that power structure. He had taken to heart Christo's philosophy that the artist must make work that exists in and has an impact on the world at large. His attraction to the street culture of hip-hop music, break dancing, and graffiti art was partially born from his rejection of the attitudes of the establishment power structure and his determination to inhabit a larger world. He wanted to annex the energy of that subculture. But he is not and never was a graffiti artist. Though he drew in the subway stations, he never defaced the trains. His iconography is more sophisticated than any generated by the typical range of graffiti art. Haring's graphic pictorial language, consciously primitivized, contains a complex, consistent and amazingly flexible internal logic, no matter where it appears or what scale it assumes. His work continued to develop and change beyond his early, most linear style.
As that language grew bolder, his drawing and painting came to possess a flawless sense of scale related to the rhythm of the body and to reflect a radical openness about sexuality, especially gay sexuality. Haring's immersion in and artistic acknowledgment of the emerging, sexually heterogeneous culture of the 1980's expresses one of the significant societal shifts of the century with freedom and exceptional wit. These issues of gender, class, and behavior expressed themselves in theater, performance, and art that evolved as a creative parallel to the more macho, neo-expressionist painting of Schnabel, Longo, and Salle and in opposition to its hyper-individualistic values.
Though he saw himself as a link in the chain of art history, Haring rebelled against the idea of the artwork as a precious "consumer" object. From the start he was never particularly concerned with THE permanence of the work itself. Or, more accurately, he understood permanence in a specifically late-twentieth century, technological way that took into account photography, computers and video, as tools.
"If it is not regarded as 'sacred' and 'valuable', then I can paint, without inhibition, and experience the interaction of lines and shapes," he wrote in his diary in 1978. "I can paint spontaneously without worrying if it looks 'good' and I can let my movement and my instant reaction/response control the piece, control my energy (if there is any control at all)…A different kind of order that exists only from these conditions, It requires individual interaction and individual response.. . It is loosely natural, real, uninhibited, beyond definition. It is temporary and its permanency is unimportant. Its existence is already established. It can be made permanent by a camera."'His public performances, such as his 1986 mural on the Berlin Wall, were usually photographed and are thus now widely known.
The drawings and collages in this exhibition, among the last things he made, reveal a lesser known, much more personal, experimental aspect of Haring's work. His urge to experiment, while ever present, intensified as he came to acknowledge his time as limited. He seems to have felt unremitting pressure to explore new kinds of gesture, new mediums. During the late eighties he was learning etching techniques and expanding on lithography. As he had early on in his career, he again made work that literally shows his hand, developing textures and washes that are the antithesis of his graphic, bold line. The works in this show, all of them exhibited here for the first time, also demonstrate his capacity for intense periods of productivity. The artist made them during several typically concentrated sessions in the studio during 1989. After he died, the series of eight small sumi ink drawings on Japanese board with silver and gold papers he made on July 15, 1989 were found wrapped up on a bookshelf of his lower Manhattan studio. Encoded in these delicate, introverted drawings are Haring's symbols for life, death, and rebirth, man and nature. Out of a book he had about Matisse, he adapted the twisted, enigmatic Buddha in one of the tondos from a figure the great colorist used in the chapel at Vence. Such cyclical iconography rarely occurs in Haring's vocabulary. His images more commonly express a kind of undifferentiated, teeming tapestry of life and activity.
While it never lost an essential innocence and celebratory openness about the world, Haring's distinctive iconography also incorporated symbols of apocalyptic evil. The general cheerfulness of his palette offset the darkness of the pictographic, technological-age hybrid monsters, devil sperm, and nuclear disaster mutants that populated his pictures alongside his dancing humanoids, radiant babies, mermaid angels, and companionable animals. In Haring's work, all things carry with them their opposites-his understanding of the transitional nature of all things is Heraclitan and quite pagan. Even though figuration remained a key element, Haring's later work kept veering toward more painterly kinds of abstraction. Filling large spaces with blobs and organic areas of color and then drawing separate shapes over them was an efficient way of covering a lot of ground (a technique that developed through the execution of large scale murals, tarps, and commissioned stage sets for theatrical performances). The technique also liberated Haring's painterly impulses as the mood of his work became more contemplative, more somber. Another series of 28 watercolors of heads and figures-all executed on October 7, 1989-centers single elements in a white field. (The loosely painted works, many of which are in this exhibition, were also found tucked away on a studio shelf.) Their extreme figure-ground simplicity is compositionally unusual in Haring's work. He usually abhorred an empty space and immediately filled it. Yet in these drawings, he exploited chance effects, letting the accidents of the materials themselves lead him from the abstract shapes he laid down first to the figures and heads. It was a technique adapted from surrealist automatism, a one-person game of cadavre exouis. Haring employed black sumi ink, orange gouache, and the white of the background sparingly. But it added up to a very dramatic effect in this exploitation of pure process. The results emerged as loosely rendered pictographic faces. These are also unusually intimate works for the artist which relate back to his early fascination with the Cobra painters. They expose a search for texture and shape that the bold velocity of his more familiar works seldom reveals.
Like these drawings, the October 1989 collages Haring made using ripped-up gravure photographs from Herb Ritts fictures published in 1988 by Twin Palms indicate that a new, more layered and textural direction was evolving in his work. In these collages, washes of paint and denser, less defined shapes supersede linear ideas. (Other collages from about the same time use scribbles and colors to transform a reproduction of the Mona Lisa into a kind of African mask.) He had first experimented with collage years before and intermittently returned to it in other works like the series Apocalypse.

Haring liked to draw and paint to music and induced in himself a certain trance-like state of working. He also never forgot the impact of his early experience in the subway stations. Haring's assertive calligraphy, most typically apparent in the pair of black and white puzzle drawings in this show, was established at that stage of his artistic life. He thought of his own line as "both archaic and universal and futuristic (with its computer capacities), a very 'real' line." He said that Brion Gysin described it as a line closer to a carved line than a drawn line. "When I make drawings," Haring told Paul Cummings in a 1988 interview for The Drawing Society newsletter, "KS always in groups. Usually between fifteen and twenty but an odd number, thirteen, fifteen, eleven, whatever. But it's always one group at a time so it will be just like working in the subway."
Sometimes people have dismissed Haring's art as merely graphic or as little more than cartoons. But it is neither useful nor accurate to think of his work in the conventional terms of painting. It is much more important to understand that he operated with the innate confidence of a born outsider to whom continual experimentation came naturally. His work combined process, theater, and supreme calligraphic and compositional skill that bypassed painting's usual issues. After seeing a painting show in Barcelona in February, 1989, Haring wrote, "The only interesting thing was it really made me think about how little I have to do with what most people consider to be the basic concept of 'painting. ' I think somehow I start from a completely different premise. I don't know how to explain it exactly, but it has something to do with the 'reason' for making a thing and the 'ritual' of the process of 'making.' Somehow so much of this stuff [other art] looks completely pointless and lost in some kind of search without an 'end. ' I feel like each thing I do has a logical conclusion and this entire process of arriving at that conclusion is the art itself. There is never a question of changing or rearranging things. Some would say that is my biggest fault, but I think it may be my biggest asset… I believe the process of 'making' is a complete thing in itself."
That internal completeness is one of the things which makes Keith Haring's work sui generis. He may have imitators but it is unlikely that any subsequent school or movement will successfully be able to incorporate his style or his pictorial language. Five years after Keith Haring died at age thirty-one, it is becoming clear that even though we thought we knew so much about him, much more remains to be discovered about the breadth and variety of this unique American artist's work. This show is part of that exploration process. Haring's art embodies the era when high art was subsumed by popular culture. No-one transformed that popular tidal wave more brilliantly than Haring did. His gift was to invent a new and universalized pictorial language. He synthesized its semiotic power from clues he got from sources that included Matisse and Dubuffet, Alechinsky and Picasso. He also built it from the energy of the streets and the dance clubs, from calligraphy and hieroglyphics and Disney cartoons, making no distinctions regarding which surfaces one could draw on, whether it was a door, a building, a baby's crib, or the human body itself. He also forged a high-profile style out of everything he learned from Andy Warhol about persona, and the latter-day methods of surreal automatism from William Burroughs, Brion Gysin and John Giorno. His ability to assimilate and transmute myriad influences so rapidly, without accepting any conventional boundaries between high and popular culture, between folk art and fine art, between the naive and the sophisticated, meant that Haring reinvigorated the act of drawing-that act so central to everything he made-with the postmodernist era's most complex iconography and charismatic line.
Haring was determined to live in the moment, a quality that most lose with the disappearance of childhood. For in certain ways Haring, like Peter Pan, never grew up into maturity. He remains forever young, and one may not judge his work in the same way one judges a fifty-year career. As Robinson Jeffers said in his poem, Shine, Perishing Republic, "meteors are not needed less than mountains." Haring was a prodigy in the world of art. His constant generosity of spirit and fearless productivity under death's shadow makes it possible to think of him the John Keats of our age. The energy, spontaneity, and optimism in his work express his essential nature. Even in the studio he remained immersed in the process of what he was making. He danced his drawings, perceiving the act as a performance and a shamanistic tribal ritual of every day life. Haring believed, and his work can convince us anew that "Art should be something that liberates the soul, provokes the imagination and encourages people to go further."
Footnotes
"On the one hand I'm fighting the art world: their concept of CULTURE, the falseness and pretense of the art market, the powerhold that this conspiracy of culture represents, the lies, the manipulation of history – THEIR HISTORY, trying to be the thorn in their side. Is it working or am I rendered powerless by the very thing I am trying to become?" He wrote this in the last year of his life.
Diaries, Fall, 1978