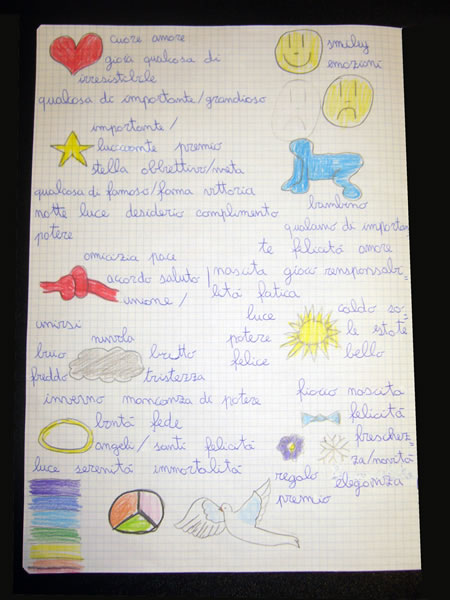 Categories
Description
Students learn about Keith Haring and graffiti art then they make their own work on a vinyl tarp inspired by his style.
Objective
Learn about Keith Haring, his work and the historical context in which his work originated and was informed by. Students also learn to use the line and symbols as a means of communication.
Resources
One PowerPoint presentation with Keith's works and one for Graffiti Art
Text with some information about Keith's life
Text with some information about Graffiti Art
www.haringkids.com (Kids' Questions About Keith Haring and Interactive coloring book)
Materials
Paper, scissors, glue, sketchbooks, colored pencils, acrylic paint, paint brushes, vinyl tarp
Procedure
DICTIONARY OF LINES
Discovery of different line types (wavy line, broken line, …) and their meaning. We create a book in which children write foreground. The last line is the closed line, that introduces to form.
FROM THE LINE TO FORM
Introduce Keith Haring, his art and his place in art history to the class (with a written text). Show pictures of his artwork (with a PowerPoint presentation). We find some information about Haring on books and some information in the website www.haringkids.com. Children tried to draw or copy some of his works.
THE LANGUAGE OF SYMBOLS
We identify some symbols that children know. Then we find some symbolic drawing in K.H. work. The teacher explain what is the meaning of these drawings. After, children can make a book in which write the foreground and invent new symbols. We can also do a game: in pairs children use symbols to convey a message; one child draw and one child guess the message.
GRAFFITI ART AND TAG
Knowledge of Graffiti Art, the historical context in which it is founded and its goals (with a written text or a PowerPoint presentation). The children discover K.H. tags and invent their own tag.
OUR MURAL
Each student choose a subject then draws it. After, children vote for the best project. The teacher reproduces it on a vinyl tarp (6 mq), as Haring did, and students must color it. Finally, the tarp is hung on a wall of the school.
Images