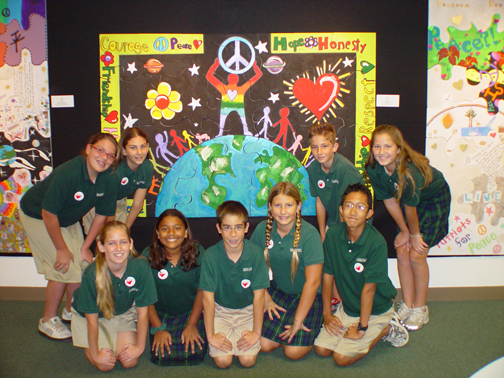 Categories
Description
Middle School students from St. Petersburg, Florida, were asked to draw a picture inspired by the work of Keith Haring. The pictures represent world issues that affect their lives. The pictures were later combined to make a 6 foot painted puzzle, and put on display at the Florida Holocaust Museum.
Objective
To learn about the style of Keith Haring's artwork.
To learn how to use your artwork to convey a message - symbiotics.
To learn the use of various art mediums.
Resources
Drawing The Line video.
haringkids.com.
Any visuals with the art of Keith Haring cards, pictures, calendars
I Wish I Didn't Have to Sleep.
Ten.
Materials
Paper
Markers
Colored pencils
Construction paper
Paint
Foam core cut out puzzle
Procedure
1. Watch the video Drawing The Line and have kids sketch and take art notes and follow discussion.
2. Practice drawing in the style of Keith Haring and sketch out ideas for art work.
3. Decide medium that you want to use for project and sketch out drawing.
4. Make sure project conveys an important message.
5. Select projects that have to do with peace and combine to draw on a large puzzle.
6. Paint the puzzle using bright primary colors.
Questions
What does each drawing say to you?
What does it make you think about or feel?
Do the figures, colors and images remind of Keith Haring' s art work? If so, how?
Extensions
Take drawings to language Arts and write about the images that you drew.
Shorecrest Preparatory School's site.
Images