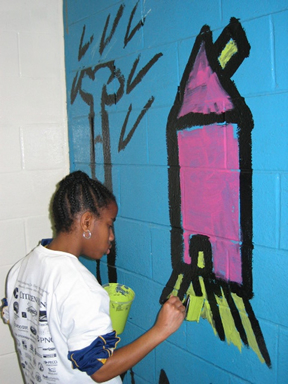 Categories
Description
Parent and student volunteers went to Greenfield Elementary School on the Martin Luther King Jr holiday to work together and paint Haring-inspired murals on the walls of the fourteen stairwell landings.
Materials
Latex paint
Brushes
Painting supplies- buckets, drop cloths, paper towels...
Procedure
STEP 1
In preparation for this even we are putting together a bulletin board on Keith Haring for the third floor of the school.
STEP 2
Students and parents will be grouped into teams of 3-4 people with a parent as team captain. (Some of these team captains have art backgrounds which will certainly help, but we don't have an art teacher at the school.)
STEP 3
Teams will study books of Haring's work and design their own Haring-inspired murals for 9'x6' concrete walls. All the murals will follow certain guidelines regarding size and number of figures. All figures will have the same heavy black outline.
STEP 4
Designs will be transferred to the wall with chalk and filled in with latex paint.
Images