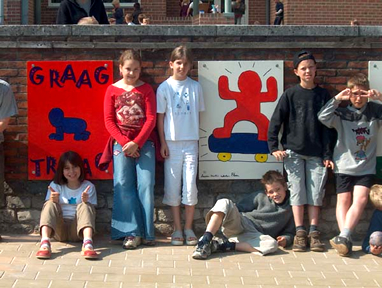 Categories
Description
Pupils make paintings on big wooden panels that are placed on the sidewalk.
Objective
To introduce students to the life and work of Keith Haring.
To help students become comfortable working as a team, collaboratively on a creative project.
To assist students in conceiving a sketch scaled to proportion.
To allow students to express themselves creatively in a public way.
Materials
8.5" x 11" Sketch paper
Pencils
Colored markers
Wooden panels
Gesso or other paint primer
Paint brushes and painting supplies
Acrylic paint
Varnish (ie: polyurethane or shellac)
Procedure
STEP 1
Children spend some time looking at and discussing Haring's work.
STEP 2
Children are split into groups of 3 or 4 and design a sketch for a wooden panel.
STEP 3
Students prepare and prime their wooden panel. They enlarge their drawing to suit the scale of the panel.
STEP 4
Children paint their enlarged drawing on the panel.
STEP 5
After the painting dries, students apply a black line around the the figures and two layers of varnish (the teacher may choose to apply the varnish, as it may be toxic).
Questions
How does the surrounding environment affect the interpretation of your artwork?
Did your intentions to make a work of art that's available to the public impact your process of planning or creating the piece? How?
What changes when art becomes public (as opposed to being in a gallery, home, or school)?
Did this project give you any ideas for future work?
What's beneficial about allowing the work you are making now to inform your next project?
Extensions
Try variations on this project to decorate the outside of your school or local shops with holiday inspired banners or panels.
Images