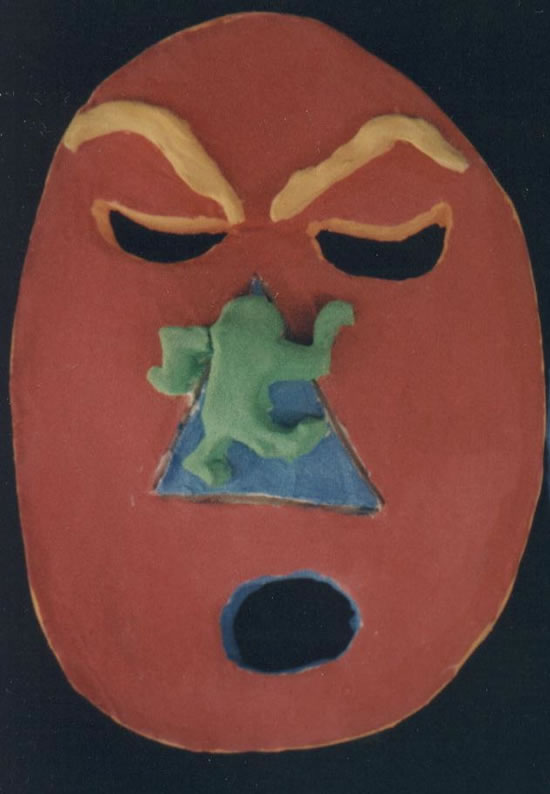 Categories
Description
Using traditional portraiture methods of proportion, students explore and combine their knowledge with Haring-style, expressive, and colorful aesthetics to produce vibrant clay masks.
To download facial proportions sheet go to Visual Aids, use link on the right.
Objective
To learn & use facial proportions.
To colour mix flesh tones.
To draw & paint figurative portrait from observation.
Translate a 2-Dimensional image into a 3-Dimensional form,%20using clay.
To utilize their personality as part of their design.
Discover art of Haring, master his style, & adapt it to their own subject matter.
Resources
Facial Proportions Sheet
To download go to Visual Aids, use link on the right. Many resources are also available in Visual Aids.
Materials
Paint & supplies
Pencils
Prepped Clay & tools
Newspaper
Masking Tape
Sugar Paper (wax paper)
Procedure
CLASS 1
Introduction Project
Go through facial proportions, rule these out over a photocopied face & label.
CLASS 2
Line
Draw each other's faces.
CLASS 3
Intro to Keith Haring
Translate your portraits into Haring's style.br>
CLASS 4
Expression
Determine emotion you'd like to express using shapes and patterns.
CLASS 5
Color
Add Paint, mixing flesh tones.
CLASS 6 & 7
Clay
Cut & mould basic shape in clay. Add details.
CLASS 8
Pattern
Create press print border.
CLASS 9 & 10
Paint
Paint clay mask.
Conceptually, pupils would paint observational self-portraits, over/beside which the symbolic Haring mask could be presented. The challenge is aiding pupils to produce pleasing self- portraits within time constraints- it suggests using photography. Digital camera in school has poor image quality. Is it financially feasible to take each pupils' portrait, full frame on 35ml? Is it then acceptable that their observational portraiture & flesh tones are based on a photo rather than life?
Extensions
Portrait collage title page.
Write an essay to describe mask, both fiction and non-fiction.
Have other students guess expression of mask.
Collected images linking to interests/favourite things & explanation sentence.
Find a famous face, cut it in half, USING TONE, complete it.
Evaluate last 2 homeworks, using questions provided- full sentences!
Stick in picture of famous person- now draw them as a Haring Mask- try to use what they are famous for.
Images