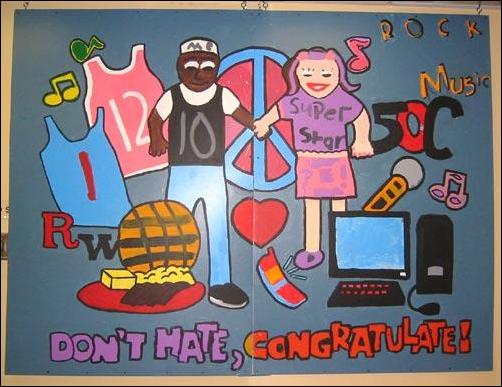 Categories
Description
Kids brainstorm ideas, make sketches, practice painting, and work together to paint this inspiring mural. This project was sent in by a very special program called FreeArts, developed to help abused children.
Objective
To expose children to the life and work of Keith Haring.
To work as a team to complete a project from planning to final piece.
To express themselves individually within the context of a larger piece.
To learn and witness firsthand the effect a mural can make on its surroundings.
Resources
Any books on murals or interesting artists i.e. Joan Miro. I used the book "Keith Haring" edited by Germano Celant (published by Prestel). I also showed pictures of local murals.
378A | Keith Haring / Prestel Catalog | $29.95
-Call Pop Shop, 212.219.2784-
Materials
1/4" Plywood cut in two 4' x 6'sections*
1" x 2" Wood studs for framing on backside*
Latex house-paint in several colors
Different size brushes
Primer
Pencils
Markers
Paper
* This project was designed to create an indoor mural in the activity room of a residence building. Since we were not able to paint on the wall itself, a wood panel was used instead.
Procedure
CLASS 1 - Think Big!
A. Introduction/Warm-up game.
B. What are Murals?
Show examples of work, Keith Haring, books. What effect do murals have on their surroundings? What symbols do they use? What is important to you? Explain how the class will work: We will work together to come up with a mural idea, paint it, and install it. Show surfaces. Explain processes (Grid paper etc.)
C. Drawing Exercise: Musical Paper
Roll out a big sheet of paper. Have kids pick a section to draw on, thinking about large images and filling the paper. Play music. When the music stops they must move to a new section of the paper and begin again until the sheet is full. (Keith Haring did this.)
CLASS 2 - The Power of Pictures
Prep: Hang pictures from last class, put out books and magazines
A. Warm-up
B. Choosing a message
What is important to you? How can we use symbols or pictures to say something? Brainstorm/List on Dry-Erase board: Things we Like, Ideas for our Mural
C. Vote on a theme
D. Free Draw with Music using our Theme
use Books/Magazines as inspiration. Have children draw their own part that will be added to the mural.
CLASS 3 - Use Your Brush!
Prep: For this class, I will have taken the drawings and put them together into a cohesive idea for the final mural. Extra time should also be spent to transfer the sketch to the wall or boards for this class. (If the students are older they can help sketch onto the final surface using an overhead projector or the grid method. If the students are younger this should be completed prior to class.)
A. Warm-up
B. Painting Practice
Have students draw whatever they like on paper with pencils and practice using paint and different size brushes to "paint" the drawings. They can also decide which colors to use for their "piece" of the mural.
C. Once comfortable working with paint and brushes they can begin painting on the mural surface.
CLASS 4 - Paint On!
A. Warm-up
B. We will spend the class painting the mural using our sketches as a guide. Those who finish their section can help others or begin to paint the background.
CLASS 5 - The Final Touches
A. Warm-up
B. Finish painting details and outline sections with black.
C. Schedule unveiling of mural for friends and family.
D. Everyone gets to sign the mural.
E. Closing Game/Reflection on the class/Ask Questions
Questions
What effects can murals have on their environment and the people who see them?
How does the mural make you feel when you look at the mural?
How did working together as a group instead of by yourself make you feel?
What can you "say" with art and murals?
Where else do you find symbols that have a message to tell you?
Do you think words or pictures are stronger?
Extensions
Dreitzer House
325 East 115th Street
New York, NY 10029
Brian Yanish's web site (917) 492-1160
Images